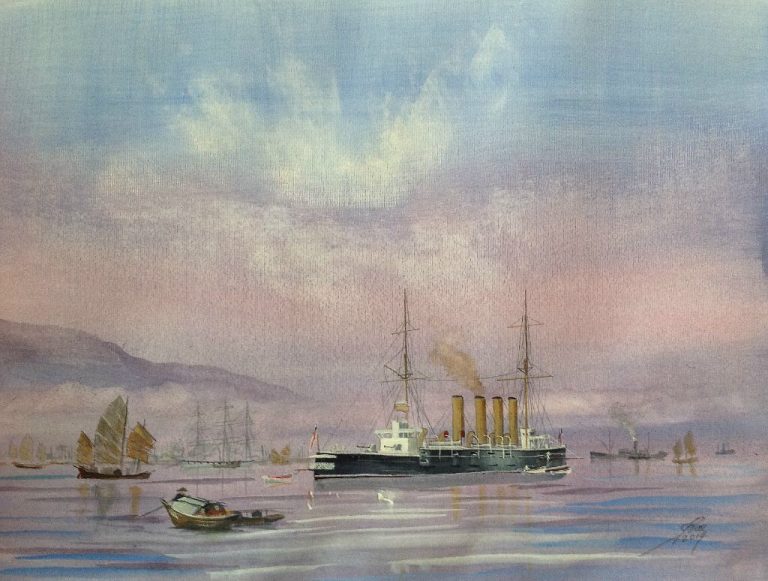 From 1900 to 1904, Argonaut was deployed in the Far East. During this period, the ship was under the command of Captain G.H. Cherry, known for his strict discipline, as evidenced by the issuance of approximately 600 warrant punishments. Captain Cherry's strictness extended to the officers as well, resulting in only four officers remaining on board throughout the commission.
Upon Argonaut's return to Plymouth in 1904, where it was later placed in the reserve fleet at Chatham, Lieutenant Arthur Ross's sister jokingly declared that the crew "deserved a medal" and even designed one. Taking the jest a step further, the London store Gamages agreed to produce 100 "Cherry medals." These medals were granted to all officers who had served a minimum of six months on board the Argonaut. The news quickly spread throughout the Navy, drawing attention. Admiral Lord Fisher sought a medal based on his service with Cherry on another ship, but his request was denied. However, King George was presented with an honorary medal in recognition of his position.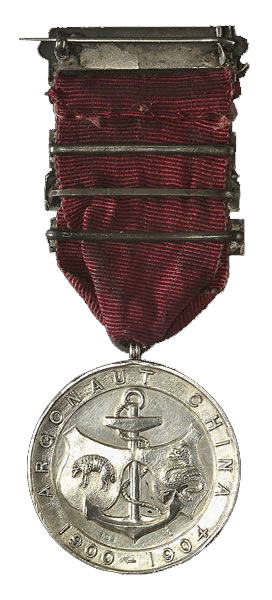 This particular class of ship differed from the typical heavy cruisers of its time. In order to enhance their speed, they sacrificed side armor. However, they still maintained a good level of protection by incorporating an armored deck and armor around critical areas known as the Citadel. The most powerful guns, however, were only shielded by gun shields.
The reciprocating engines of this ship allowed it to reach a top speed of 15 to 17 knots, with the higher speed sustainable for only short periods. Despite having a design speed of 20.5 knots, the ship's normal cruising speed was around 10 knots. At this cruising speed, the ship consumed approximately 1 ton of coal for every 10 nautical miles traveled. The bunkers had a capacity of up to 1000 tons of coal. Before the introduction of the "cruising turbine," endurance was the only advantage of the steam reciprocating engine over the steam turbine.
The ship's complement consisted of approximately 675 crew members of various ranks and positions.
In 1906, Argonaut underwent a refit for specialized service and joined the Home Fleet stationed at Portsmouth. Subsequently, the ship was decommissioned in February 1911 but recommissioned in 1912 and assigned to the 3rd Fleet. However, it was once again decommissioned in April 1914.
In April 1914, Argonaut was recommissioned once more and joined the 9th Cruiser Squadron operating off Cape Finisterre from August 1914 until July 1915. During this time, on October 10th, 1914, Argonaut successfully captured the German Merchant ship "Graecia."
Following its service in the 9th Cruiser Squadron, Argonaut was finally laid up in Portsmouth in 1915 and repurposed as a hospital ship until 1917. Afterward, it was utilized as accommodation for stokers until 1920 when it was ultimately dismantled.
For further information about the ship's activities during the period of August 1914 to September 1915, the ship's log can be accessed on the Naval History Website.